Harrisburg – State Senator Tom McGarrigle (R-26) was sworn into office today in the Senate Chamber.
The ceremony took place this afternoon as the Senate convened for the 2015-16 legislative session. Voters elected Senator McGarrigle to the chamber in the November 2014 election.
"I am honored to be given the opportunity to represent the people of the 26th Senatorial District and excited to get to work," said McGarrigle. "We have some extremely challenging fiscal problems facing us, but I am confident that if we work together we will build a stronger, more prosperous Pennsylvania."
Senator McGarrigle has been a resident of Delaware County for more than 30 years and is a successful small business owner and job-creator. Prior to running for the Senate, McGarrigle served on the Delaware County Council, where he played an integral role in projects that helped to create jobs for Delaware County residents. Full Bio
Senator McGarrigle represents the 26th Senatorial District, covering parts of Delaware and Chester counties.
In Delaware County, the district includes the townships of Marple, Newtown, Ridley, Springfield, Tinicum, Upper Darby and Upper Providence and the boroughs of Aldan, Clifton Heights, East Lansdowne, Glenolden, Media, Millbourne, Morton, Prospect Park, Ridley Park, Rutledge and Swarthmore.
In Chester County, the district includes the townships of Easttown and Willistown.
You can follow Senator McGarrigle on Twitter and Facebook.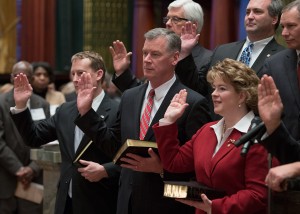 CONTACT: Alex Charlton acharlton@pasen.gov (610) 853-4100