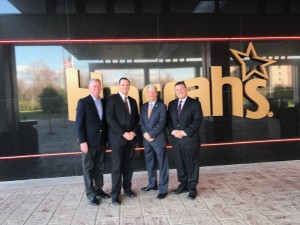 Drexel Hill, PA – State Senator Thomas J. McGarrigle (R-26) and State Senator Tom Killion (R-9) have reached a deal with Harrah's Philadelphia to provide Delaware County with funding to compensate for the recent state Supreme Court ruling striking down language used in the Gaming Act that calculated the local share or "host fee" for the municipalities and counties that host casinos.
"Senator Killion and I are very pleased to announce this important memorandum of understanding with Harrah's Philadelphia," said McGarrigle. "Without this agreement, Delaware County and Chester would have been left with a huge funding loss and budget shortfalls that would have had to be made up by local taxpayers. That was unacceptable and I appreciate Harrah's for realizing that and working on a solution."
"I want to thank Harrah's Philadelphia for stepping up to the plate," said Killion. "While a legislative fix is required for a long-term solution, this agreement reflects the spirt of the Gaming Act and the need to return gaming revenue to host municipalities and counties. Senator McGarrigle and I will work to pass legislation to ensure local access to gaming revenue when the legislature convenes in January."
In the 2015-2016 fiscal year, Delaware County's Local Share Assessment (LSA) amounted to $4.9 million, and the share for host city Chester totaled $10.5 million.
The state Supreme Court struck down the LSA provisions in the Pennsylvania Gaming Act on September 28, finding them unconstitutional. All interested parties are currently working together to craft a long-term legislative fix that can be considered in January.
Contacts:
Mike Rader (Sen. McGarrigle) mrader@pasen.gov (717) 787-1350
Mike Stoll (Sen. Killion) mstoll@pasen.gov (717) 787-1350